First, we had the National Scrabble Association newsletter – a paper newsletter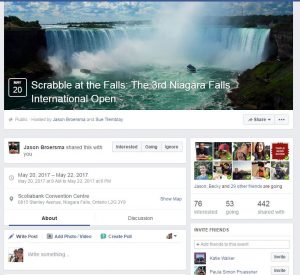 with upcoming tournaments listed. Local events would create flyers, sometimes mailing them to club members and bringing copies to other events, hoping to drum up attendance. Then, we had the online NASPA calendar. Cross-tables has become a go-to when I'm looking for an at-a-glance idea of what's coming up, but I'll admit that if I see a tourney pop up on Facebook, I can't help but click on the event link and take a look.
A few tourney coordinators and directors (myself included) have started using Facebook events to promote their tourneys. It's a pretty quick process to set up the event page, and then you have a new place to share news, to allow players to talk with one another, and to spread the word about your event. Here are the basics:
You must have a Facebook account, an event, and an image that you can use for the event to get started. The image dimensions for a Facebook event are 784 pixels long by 295 pixels tall. This is approximately 8″ x 3″. If your image is a different size, Facebook will adjust it and may cut some of the image off.
In your account, go to the sidebar and scroll down to Events. Click on the "Create an Event" option.
This will pull up a menu that gives you a few choices. I recommend choosing a Public event (rather than Private) since this allows anyone to view the event. Add your event name, location, date(s) and time(s).
Write a short description (1-2 sentences to keep your audience's attention). URLs will automatically become clickable so if you'd like to include a link to your flyer, cross-tables, or your club website, for example, you can do that here.
Select tags that may help people search for your event (definitely "Scrabble"! and anything else you think may identify your event).
That's it! You've created the event! Now you can invite potential attendees (you have to be Facebook friends to invite them directly, but you can share the link to the event more widely).
We are happy to share your NASPA tournaments on the NASPA Facebook page to generate more publicity. Just send the URL to the NASPA Social Media Committee  – as long as it's a Public event, we can share it.
Now, how do you use the page? Here are some posts you may make before the event to keep building interest and engage your audience:
pictures from past tournaments if it's an annual event
any news articles that are meant to generate tourism interest
restaurant lists
events that will happen around the weekend of the tourney that family members may want to take advantage of if they aren't playing
cheap plane fare if you come across any
favorite hotels people have stayed at before
upcoming dates/deadlines (early bird rates deadlines, hotel deadlines)
Hopefully other players will jump in and share their ideas too. The power of the event page is really in other people engaging with one another!
Here are a few NASPA tournaments that have used Facebook – hopefully they'll get you inspired: