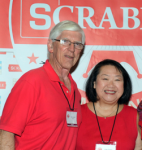 Lila Kay Crotty started playing Scrabble as a child with her sister, May Kay, but didn't find time to play seriously until after her children were in college. She also played Literati on Yahoo! — meeting a number of other Scrabble players — she was encouraged by former National Scrabble Champion James Leong to attend her first official club session in Metairie, Louisiana, and the rest is history!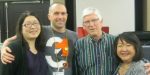 Lila now directs the Metairie club and co-directs the annual Crescent City Cup tournament in New Orleans in January, along with Kate Fukawa-Connelly, and their husbands, the two Tims — Tim Crotty and Tim Fukawa-Connelly. Both Kate and Lila are glad that their non-Scrabbler husbands are so supportive of their passions for the game.
In addition to Scrabble, Lila enjoys event planning, crafts, calligraphy, cooking, and spending time with her family. Lila's daughter, Lindsay Crotty Bahra, is also a competitive Scrabble player and Lila hopes to encourage her granddaughters, Lea and Penny, to follow in their footsteps as NASPA members and tournament players.
She looks forward to welcoming players to Louisiana in January 2017 for the Crescent City Cup, and in July 2017 for the North American Scrabble Championship!