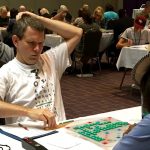 Ophthalmologist Marc Booth hasn't played much organized Scrabble recently, so we're glad he was able to come to the NASC! He was part of the Crawfordsville, IN Club for some time and enjoyed playing with the people there.
His fondest Scrabble memory is playing FLINGERS for his first BINGO in his first tournament game. He was profiled in Cornelia Guest's "The Last Word" newsletter after winning division five at that tournament with a perfect 7-0 record. This is his first tournament since that event back in 2013!
When he isn't performing eye surgery or studying words, Doug enjoys spending time with his two-human, two-dog family, and encouraging his daughter, Charlotte, to "explore new avenues in the world." They play a couple of games of Scrabble a week at home.
Marc is rooming with expert Doug Lundquist who is competing in Division 1 for the first time ever! They went to high school together at the Illinois Mathematics and Science Academy in Aurora, IL. Go Titans!