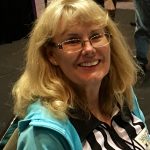 Sue Tremblay is a tournament director and she is assisting as a NASC staff member this year. She started playing Scrabble about 14 years ago when her sister-in-law heard about the Ottawa Scrabble Club. She got hooked and played in her first tournament in 2002. She and Jason Broersma now partner up to run tournaments in the Mississauga area, and started an annual Niagara Falls tournament that has grown in popularity over the past few years.
Sue and Jason are avid travelers and Scrabble sparring partners. They just returned from a trip through the South Pacific, during which they stood on the edge of an active volcano, snorkeled on Tuvalu, and played over 70 games of Scrabble against each other. When she's home, she also does a lot of yoga, cooks, and spends time with her daughters.
Sue was just elected to a two-year term on the NASPA Advisory Board to represent Canada, and in this role, she hopes to promote unification and growth in the competitive Scrabble scene in North America.