Knox Daniel (often incorrectly identified as Daniel Knox), a sixth grader from Charlottesville, VA, has been learning the Scrabble ropes from his father, Division 1 player Clay Daniel, and this is his first Nationals.
Knox and his partner, Yanni Raymond, came in third at the North American School Scrabble Championship in both 2015 and 2016. In addition to Scrabble, he enjoys math and sports, and he can do a headstand for over a minute! You can hear more about the 2015 School Scrabble Championships on an episode of the NPR program, On Point.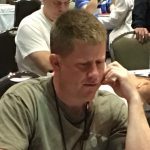 Clay was excited to play CLAYIEST on the way to winning game 7 of this year's Nationals. He enjoys trivia, most word and board games, teaching, writing, and composing and performing raps! Clay considers it "a huge privilege" to be playing in the Nationals alongside his son and he's having a great time.